Cost of a wedding in Switzerland
On average, Swiss couples spend between 30 and 40'000 francs, without taking into account clothes, rings and honeymoon, for a wedding of 40 to 70 guests (according to the OFS, 2020). Below, we have detailed the main expenses for a wedding, giving a price range, based on a hundred providers in French-speaking Switzerland. Of course, each wedding is unique and this is only an average to help you anticipate.
---
Venue | CHF 300 - CHF 10'000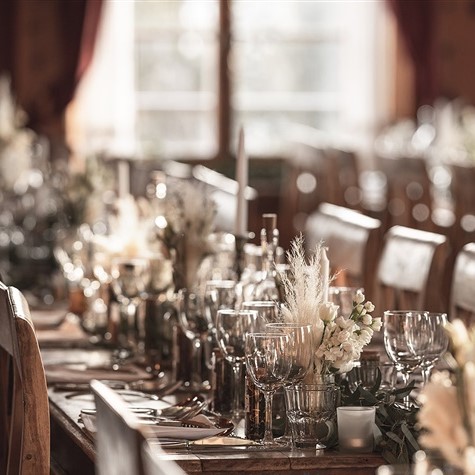 The venue can be rented in part or exclusively, for one or more days, with or without room rental. The price also varies according to the type of venue chosen. From a mountain chalet to a castle or an open-air tent, the bill will differ completely. Also, some couples choose different venues for the ceremony, the aperitif and the meal.
Here are the possible costs to foresee: 
Venue rental (Ceremony, Aperitif, Meal)        
Equipment rental (Tent, furniture, tablecloths, etc.)
Room/s    
 
---
Meals and drinks | CHF 100 - 250 /pp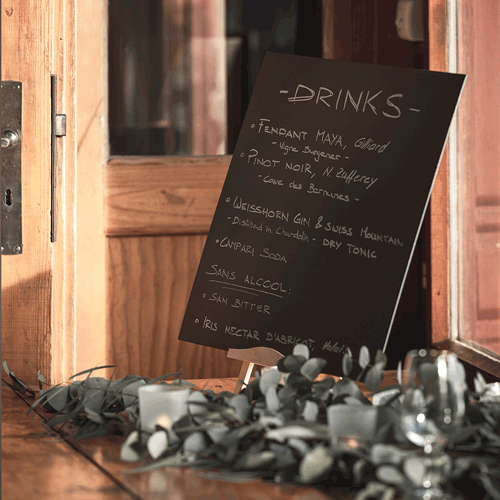 The caterer is usually the main expense of a wedding. An external caterer, on a location in kind with the necessary infrastructure and personnel can be expensive. A foodtruck can be an original and less expensive option, as the vehicle usually contains all the necessary equipment.
Here are the possible expenses to foresee: 
Tasting of the meal (sometimes offered by the caterer)
Aperitif | Vin d'honneur        
Wedding menu    
Dessert | Mignardises    
Wedding cake             
Drinks (aperitif + meal + bar)        
Corkage fee (price charged if you choose to bring your own bottle of wine in an establishment)
Breakfast or brunch the next day   
---
Music & animation | CHF 500 - CHF 5'000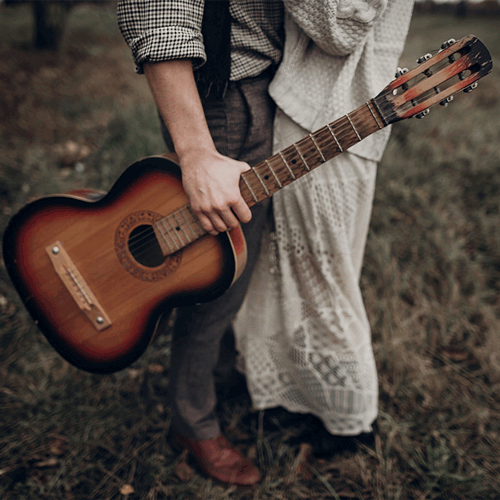 Here are the possible costs to foresee:
Band / Musicians / DJ | from CHF 300 to 3'000
Major of table | from CHF 1'500 to CHF 4'500
Celebrant, lay officiant | from CHF 500 to CHF 1'500
Photo Booth | from CHF 500 to CHF 1'000 
Performers (dancers, singers, actors, artists, etc.)    
Technical equipment (microphone, speakers, beamer, screen...
---
Photographer | CHF 1'500 - CHF 6'000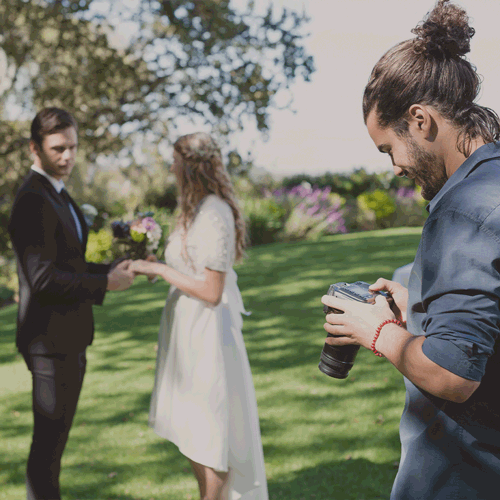 The rates differ according to the number of hours spent and, among others, the following selected services: 
Couple's photo session 
Civil wedding (a few hours)
Full day wedding
Travel in Switzerland or abroad
Film / trailer / wedding teaser
Albums and boxes 
Photobooth 
etc. 
---
Flowers & decoration | CHF 1'500 - CHF 5'000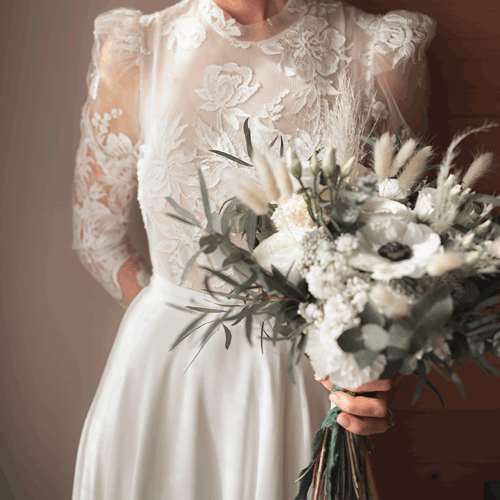 Here are the possible expenses to be foreseen:
Decoration of the room(s) (civil, church, reception room, aperitif, meal)
Bride's bouquet & groom's buttonhole        
Bouquets for the bridesmaids 
Flowers for the car, the welcome board, the cake, the ceremony arch, etc
---
Stationery | CHF 5 - 20 /pp
Here are the possible expenses to foresee:
Save the date cards    
Invitation cards    
Thank you cards 
Table plan / table numbers / place cards
Menu / bar cards         
Guest book    
Postage stamps    
Directional signs
---
Transportation | CHF 500 - CHF 1'500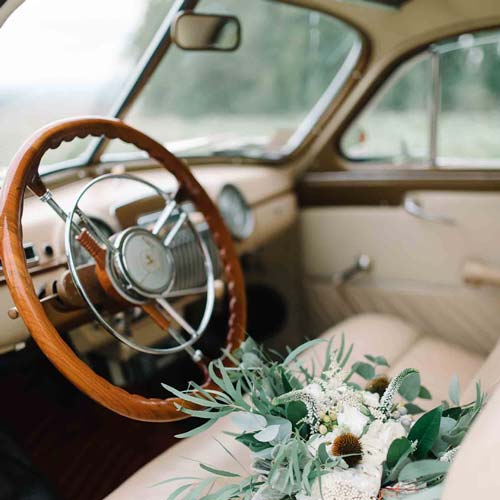 Rental car (for your arrival) 
Transfers / Transportation / Parking   
---
Official & religious | CHF 250 - CHF 3'000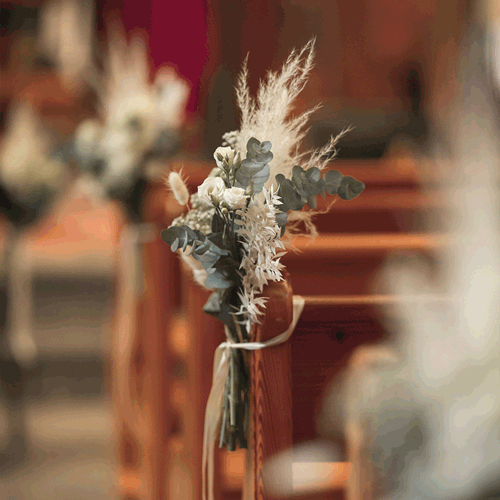 It all depends on whether you choose an official or licensed venue. Approved venues for civil weddings, such as castles, can cost several hundred francs to rent. Also, the cost of a simple marriage contract is not the same as if you hire a notary to draw up an inheritance agreement. 
Here are the possible costs to foresee:
Room rental for the civil marriage    
Administrative documents 
Notary
---
Wedding Planner | CHF 2'500 - CHF 8'000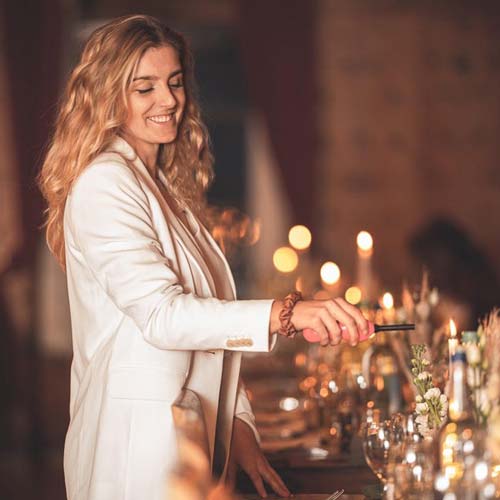 There are several packages available from wedding planners: partial organization, complete organization or D-day. The organizer lets the bride and groom choose, and they often wish to contribute to the organization, which reduces the costs.
---
Others | CHF 500 - CHF 1'500
Wedding website | from CHF 0 to 1'500      
Gifts to guests | from CHF 150 to 500   
Babysitter | between CHF 15 & 30/hour     
Dance lessons | between CHF 60 & 120/hour for two
Ideally, a mini budget (1% of the budget) should also be set aside for unforeseen events, good hands, deliveries and others.
 
---
We do not have statistics for the following categories. It all depends on whether couples order abroad or buy from a professional in Switzerland who makes custom-made products. 
---
Beauty & jewelry
Wedding rings
Wedding dresses        
Civil status dress 
Groom's suit          
Bride's accessories (veil, jewelry, lingerie, bag, etc.)        
Groom's accessories (vest, belt, suspenders, hat, etc.)    
Hair, make-up & other styling (care, nails, eyelashes, extensions, etc.)  
---
Honeymoon
Destination    
New passports