Seating plan ideas
What is a seating plan?
Initially, a wedding seating chart is a diagram where the guests who will share a meal are arranged. A table number is often assigned to a guest, shown on a map usually placed at the front of the room, followed by a place card where they should be seated.
---
What is its use?
During a wedding, the seating plan is almost indispensable, especially when the number of guests is significant. It allows to anticipate the evolution of the number of seats, the necessary furniture, the type of decoration or the space between the tables for the good progress of the table service, for example.
As for the guests, the seating plan allows them to find their place easily, without fear of being next to strangers.
 
---
What type of table should I choose?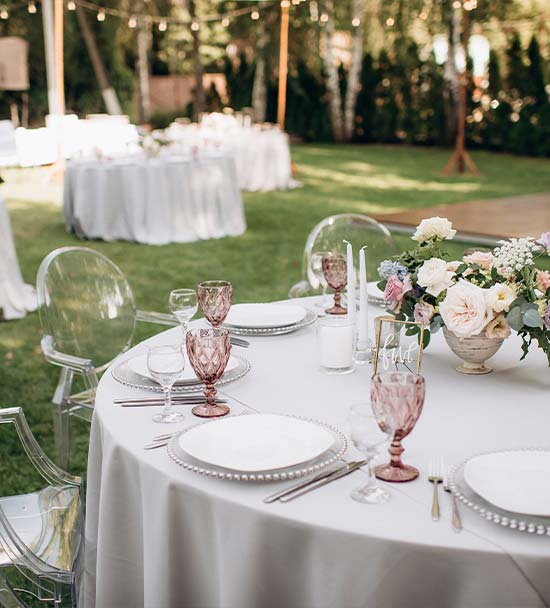 Each type of table has its own advantages. Round tables are convivial and are often chosen for weddings because they encourage dialogue between the table's guests. They can seat between 4 and 10 people depending on their diameter. Rectangular tables are popular for outdoor receptions and can be assembled one after the other to form a presidential table and create a "wow effect".
---
Our top 5 tips.
1 - Don't forget the service providers. If you have hired a photographer/videographer, a wedding planner, a DJ and others, discuss with them if they would like to join the guests at the table at some point or plan a separate table for them.
2 - Place the photographers in a place where they have a view on you, so that they can immortalize the moments of surprise and emotion.
3 - Place the guests next to their +1 or their children (anticipate the baby chairs). Always place your guests near someone they know.
4 - Think about the elderly. Do not place them near the speakers, the DJ or others.
5 - If you want to have a children's table, have an outside professional watch them. A babysitter will be welcome to avoid having to mobilize one of your guests during the whole evening.
---
How to create a seating plan?
The seating plan can be created via a platform (Canva.com, for example), a software (Excel, for example) or simply on paper. It can then be distributed to the caterer to indicate the location of guests with special diets (vegetarians, people with allergies, etc.)
However, to make a seating chart fun, couples come up with all sorts of concepts ... and we love it 🤩 Here are some inspirations below:
Cheers!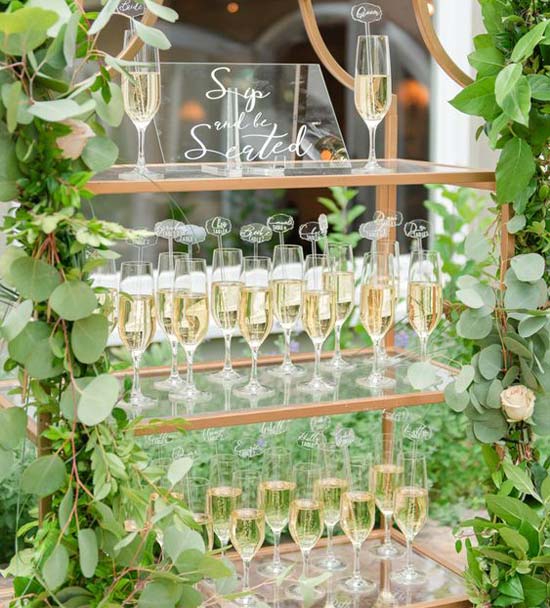 Create or order a place card to slip into a glass and arrange your champagne flutes in an original way. Your guests will just have to find their glass, make a toast and join their place.
---
Vintage and natural.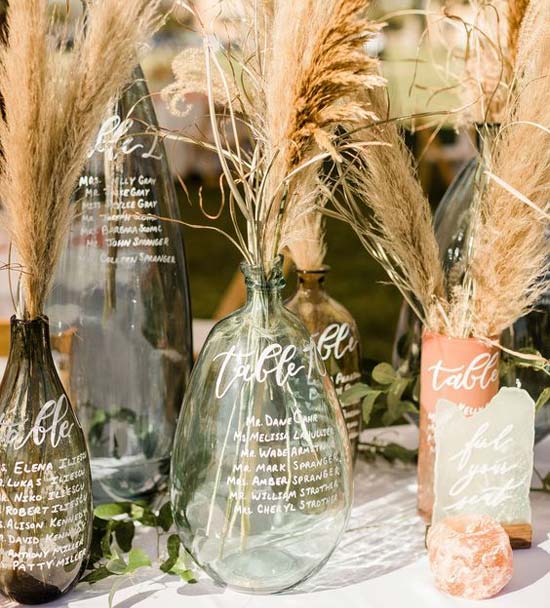 Arrange a few glass jars of different shapes and sizes according to the number of tables you have, make pretty bouquets of dried flowers and write the table numbers and guests' names with a glass marker.
---
Gifts/place cards.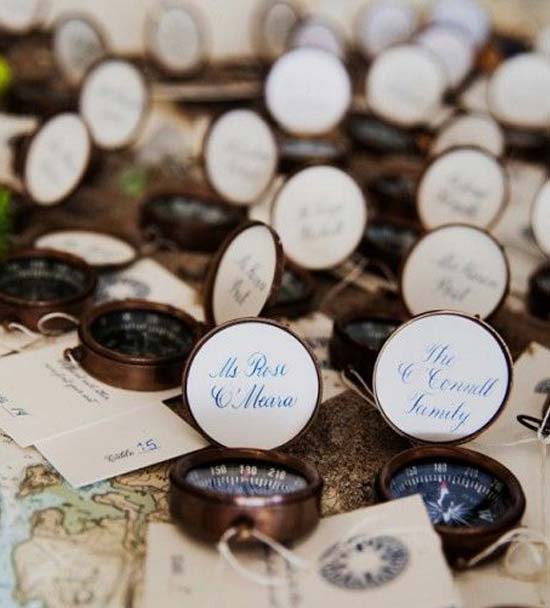 The seating plan can be mixed with the gift/souvenir made to the guests. So, place your gifts on a table and accompany it with the place card.
---
Bookcase.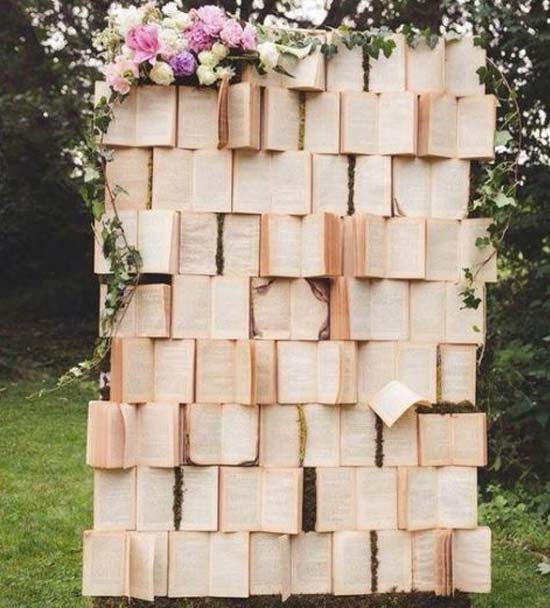 Every love story is beautiful but ours is my favorite! Replace the covers of the books with your guest's names and the table number they are assigned to.
---
Antique Keys.
Find some old keys at the flea market and label each one with a guest's name and table number. Everyone can keep their own key and use it as a souvenir key chain!
---
Plexiglas sign.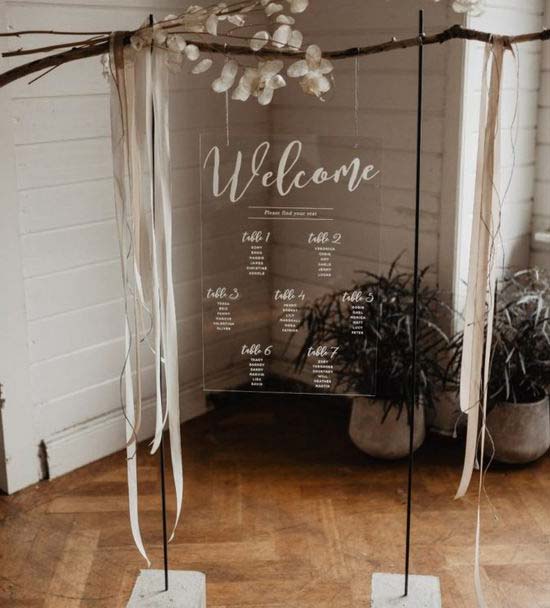 Have a plexiglass sign made. Display it on an easel or hang it from a stand. Clear, elegant, effective.
---
Playful mini puzzle.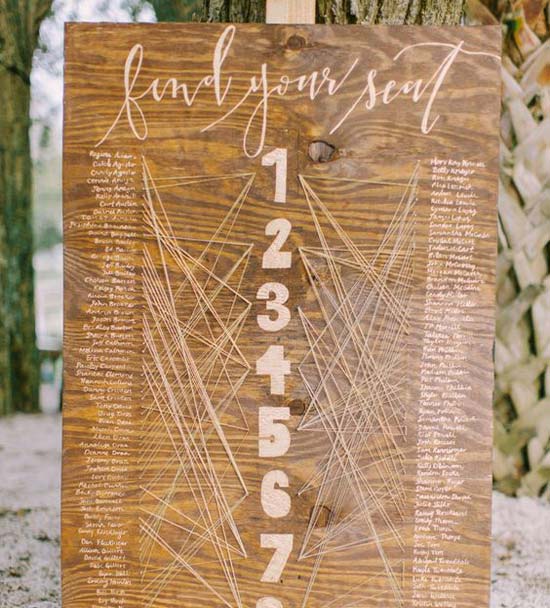 Link the names to the table numbers with cotton thread. A moment of complicity between guests who do not know each other yet. A simple and fun animation!
---
Glass bottles (illuminated).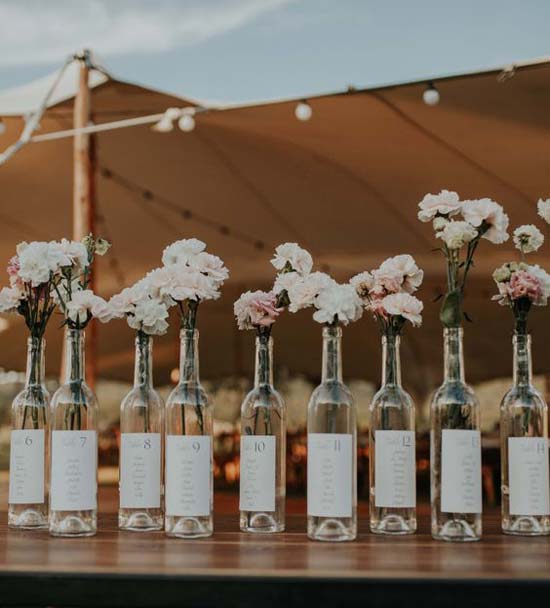 Creative and original. The bottles can also be illuminated for an original atmosphere or it can be your good bottles of wine that the guests will take to their table for example?
---
Hanging wooden boards.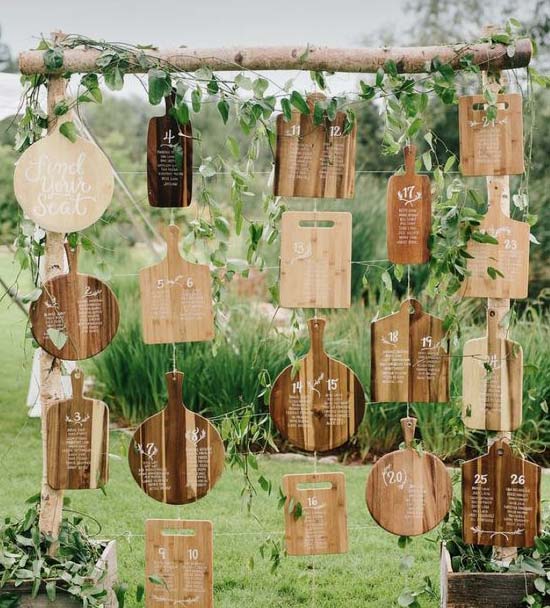 Original, natural, country style.
---
Large decorative boards.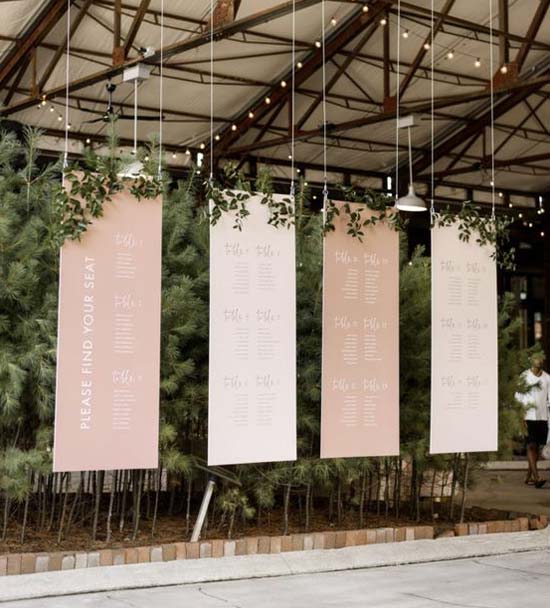 If you have a lot of guests, the seating plan can be held on a large board(s), being fully part of the decoration of the place.
---
Break the codes.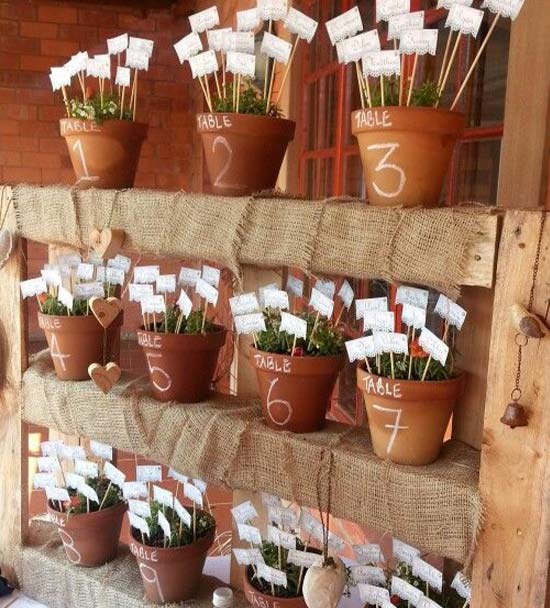 Place cards placed in flower pots, sauce or condiments to be taken at the table with your name, your seating plan can take any form you wish.
---
Wood and more wood.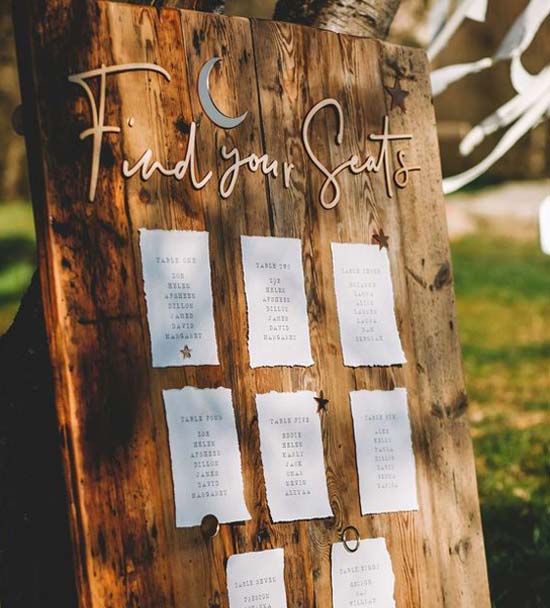 Small wooden structures and decorations are easily accessible to couples who are not used to DIY but enjoy doing it for the occasion. Use your imagination!
---
On mirror.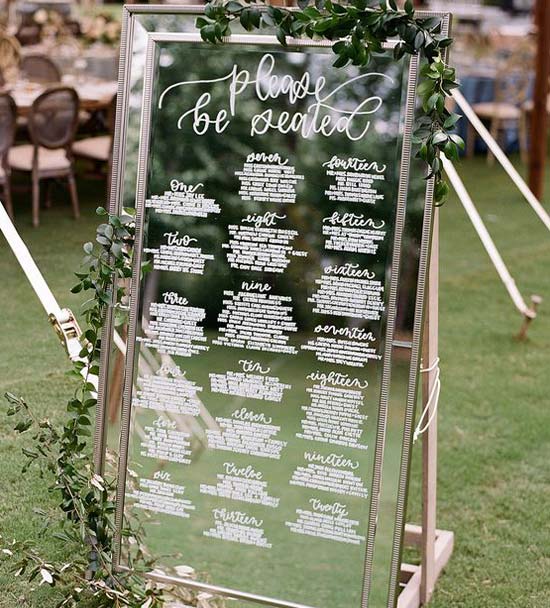 Mirrored seating plans are very trendy!
---
Polaroids, souvenir photos.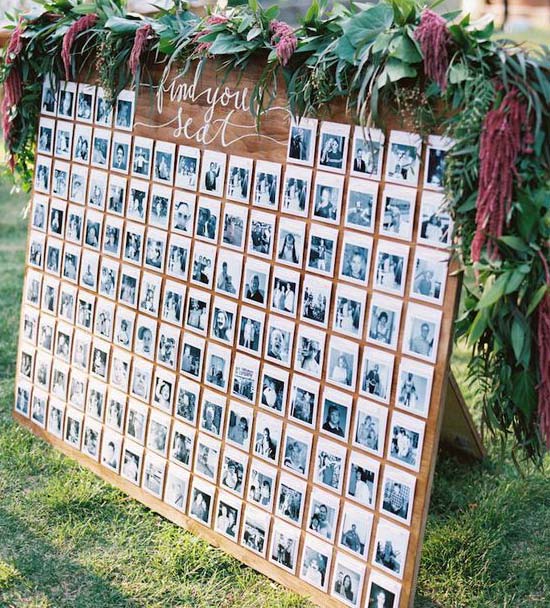 Have a photo printed with each of your guests and write the table number on it. Your guests will have a great time looking at all the pictures to find theirs and will leave with their picture as a souvenir.
---
Incorporated into a piece of furniture. 
You can find beautiful vintage furniture to make your seating plan: wardrobe, door, window, etc ... Everything is possible.
---
World map.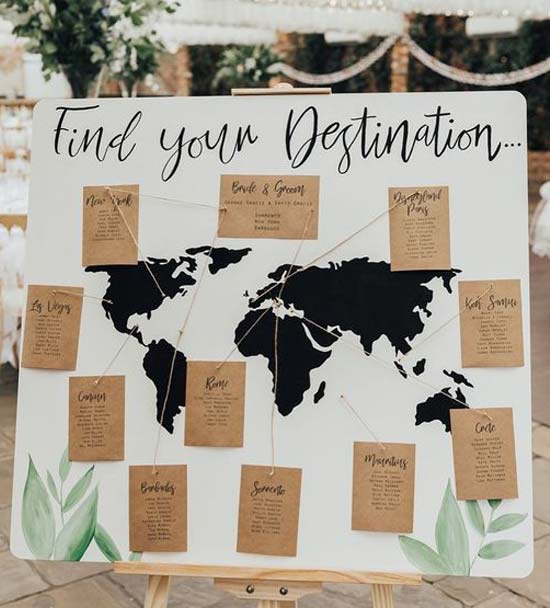 At multicultural weddings ... if the guests come from abroad, it can be original to assign the tables according to the different countries represented.
---
Traditional on easel.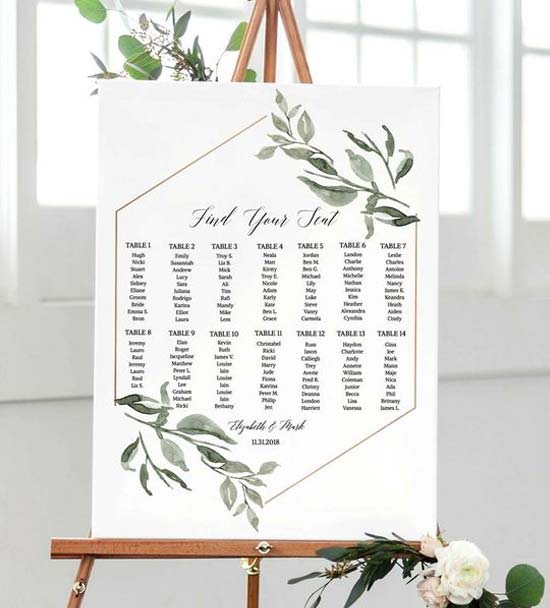 Have your seating chart printed, place it on an easel and you're done!
---
Creative DIY and games.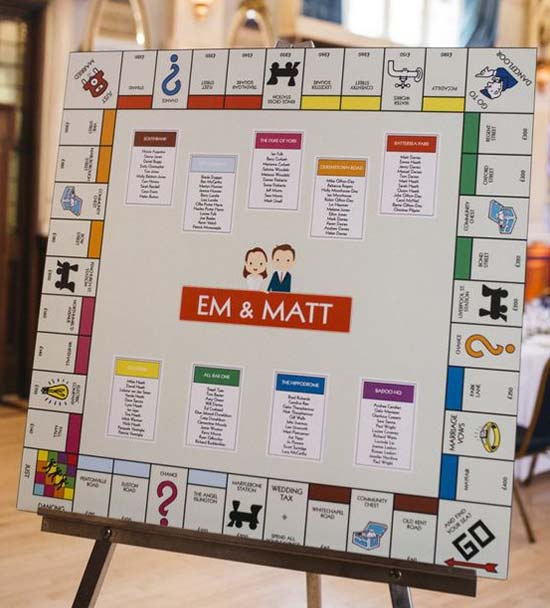 Reproduce and personalize your favorite game by incorporating your seating plan.
---
In the form of frames.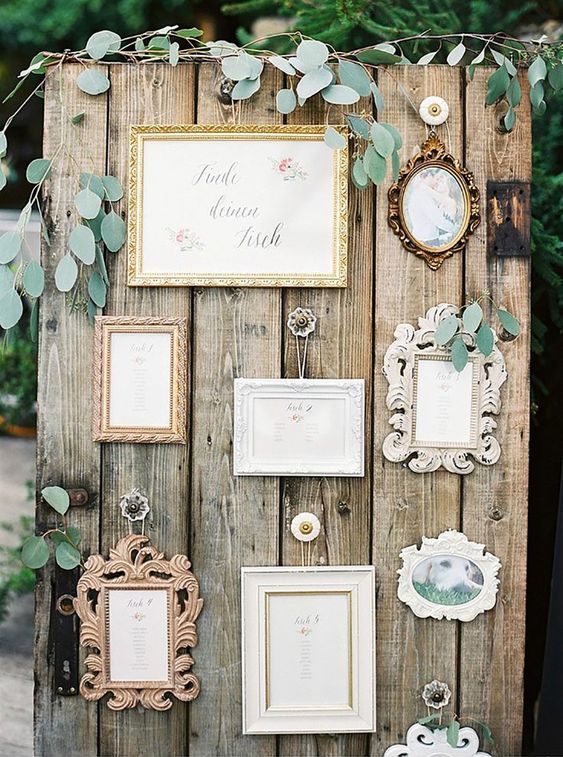 Have each table assignment printed separately and framed.
---
There are many more ideas... Let your imagination run wild!